Our puppies and dogs in training are asking for treats, toys, and other fun things during the holiday season. You can help them enjoy the holiday, and beyond, by taking part in our Angel Tree event!  
HOW TO PARTICIPATE
---
In person trees will be available beginning on November 23rd.
Pick up an ornament off of one of our trees at Tanglewood or Valley View Mall.
Shop at your favorite stores.
Attach ornament to your gift and return it to:

Saint Francis Service Dogs
8232 Enon Dr, Roanoke, VA 24019
or
Warehouse Furniture
Tanglewood Mall
Shop at your favorite online retailers for the items on our dogs' wishlist below.
Have them shipped directly to our facility at 8232 Enon Dr, Roanoke, VA 24019 OR if you would prefer, come say hello and drop them off in person from 9am to 5pm, Monday through Friday.
Do not hesitate to contact us if you have any questions about our Angel Tree or programs!
Thank you for supporting our incredible dogs and the amazing people we serve!  Happy and Safe Holidays from the Saint Francis Team!
If you are shopping locally, and would like to take a copy of our list with you, a printable version is available here. 
Donations made through this form will be designated to our Angel Tree Wishlist.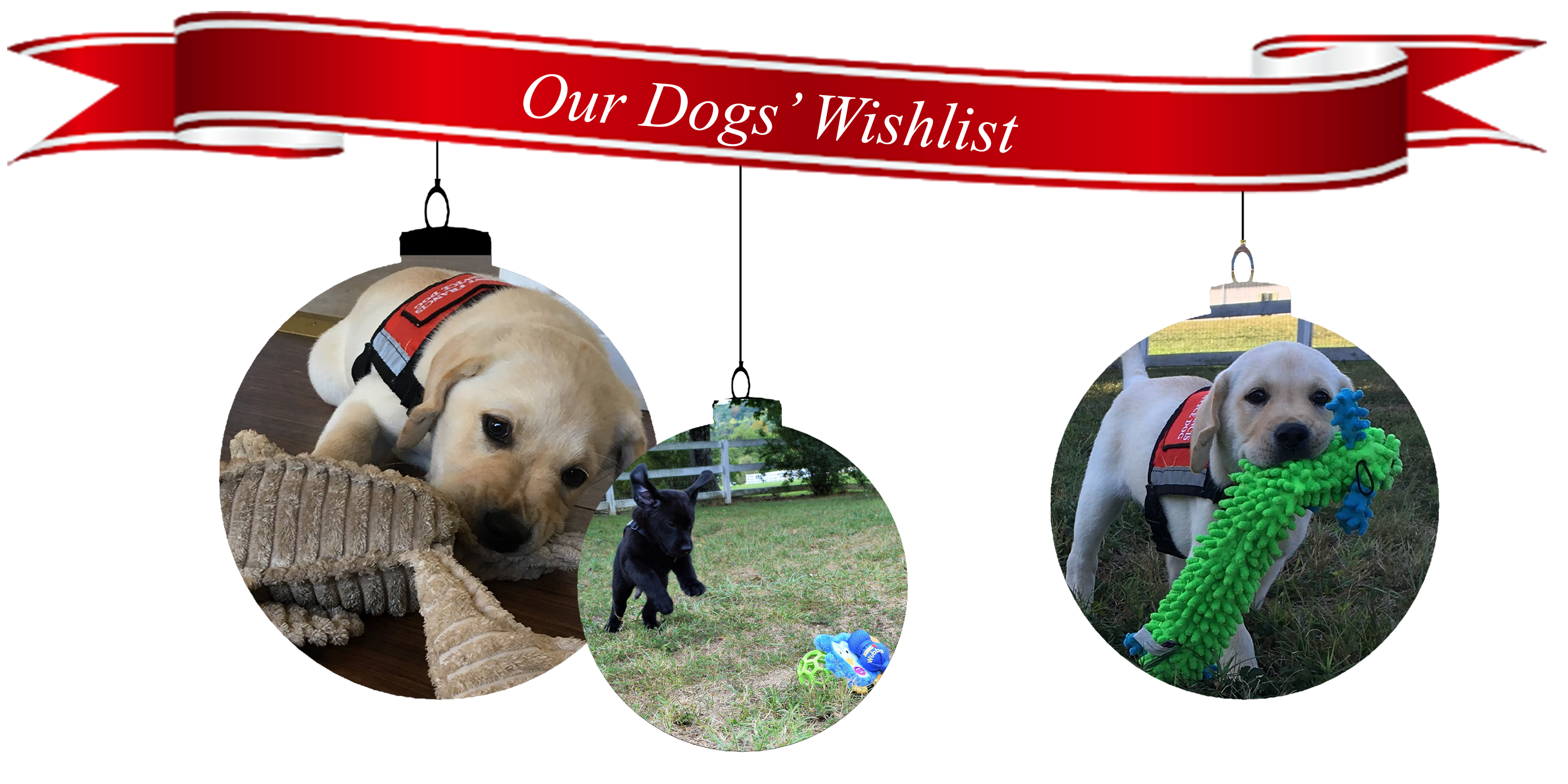 CHEW BONES
Nylabone Dura Chew Power Chew Dog Toy (XL)
Nylabone Puppy Chew Teething Rings
Nylabone Puppy Chew Ring Bone Chicken Flavor – Wolf
Nylabone Double Action Bone Just for puppies (small/regular)
Benebone (medium and large)
TOYS
Chuckit! Balls (medium and large)
Chuckit! Ultra Squeaker Ball (medium and large)
Chuckit Mountain Rope Tug Tough Dog Toy (blue/orange, large)
Chuckit Indoor Ball
Chuckit Zip Flight Frisbee (small/petite)
Chuckit Flying Squirrel
Outward Hound Hedgehogz Plush Toy (small)
Kong Classic (red medium, and black large)
Kong Wubba (small, medium, and large)
Kong ballistic toy (any)
Kong squeak stix (either size)
Wubba toys
Jolly Pets Jolly Ball Tug and Toss without the rope (medium)
Fat Cat Toys
Browning Pets – Vinyl Training Dummy (Black/White small 10inch)
JW Holee Roller (5.5inch Large)
Multi-Pet Loofah Dog (small)
Zippy Paws – Zingy No Stuffing Squeaker Plush Toy (3 pack large)
Ethical Pet – Vinyl Food 2 Pack – Burgers and Fries
TREATS
Zukes Mini Training Treats
Charlie Bear Treats
Kong Easy Treat Squeeze (any flavor)
Kong Filler (Sweet Potato Preferred)
Kong snacks
Lickety Stick
Milk Bone – Trail Mix only
Pupperoni
SUPPLIES
Biodegradable Poop Bags
Conair Pro Medium Soft Slicker Brush
Medium Gentle Leader (Black and Tan)
JW Grip Soft Nylon Bristle Brush
Lil' Pals – Double Sided Metal Comb
Well & Good Cushion Slicker Brush for Dogs
Top Paw Grooming Rake – Black with Purple handle
Zoom Groom – Soft Brush for Puppies small
GIFT CARDS
Gift cards to the following stores will help our dogs in training and our organization as a whole in many ways in the year ahead.
Lowe's Gift Card

Home Depot Gift Card

Amazon Gift Card

Petco Gift Card

PetSmart Gift Card

Kroger Gift Card

Walmart/Sam's Gift Card

Nature's emporium

Visa/Mastercard Gift Cards